Come see me at a community event!
Occasionally, you will find me (Ruby) in the community presenting at a hospital; speaking to a group of graduate students; presenting at a conference; or presenting to student support staff in K-12 schools. If any of these events are right for you please view the participation information below to learn about fees and registration.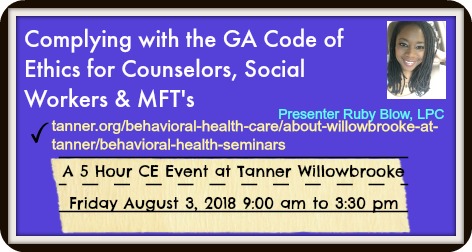 The purpose is to support familiarity with the Ethical codes for Counselors, Social Workers and MFT's in the State of Georgia.
The Objectives include:
An Overview of the Ethical Guidelines for Counselors, Social Workers and MFT's in Georgia.
Exploring the principles of ethical decision-making models.
Putting it into practice
Location: Tanner Willowbrooke, 20 Herrell Road, Villa Rica, GA 30180 (FREE PARKING)
Date: August 3, 2018
Time: 9:00 AM – 3:30 PM
CE Information: 5 Ethics CE's approved hours
Fee: To Be Announced (TBA)
---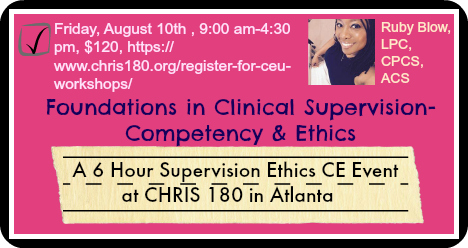 The purpose of this workshop is to support and enhance clinical supervisors' knowledge and understanding of competency and ethical practice as supervisors.
The Objectives include:
Understanding the relationship between competency and ethics;
Exploring the elements of supervisory competency and ethical practice of both the supervisor and supervisees;
Exploring best practices in clinical supervision.
Location: CHRIS 180's Main Office – CHRIS Training Institute; 1017 Fayetteville Road, Suite B, Atlanta, GA 30316 (FREE PARKING)
Date: August 10, 2018
Time: 9:00 AM – 4:30 PM
CE Information: 6 Ethics CE's, workshop approved by LPCA-GA
Fee: $120.00