Come see me at a community event!
Occasionally, you will find me (Ruby) in the community presenting at a hospital; speaking to a group of graduate students; presenting at a conference; or presenting to student support staff in K-12 schools. If any of these events are right for you please view the participation information below to learn about fees and registration.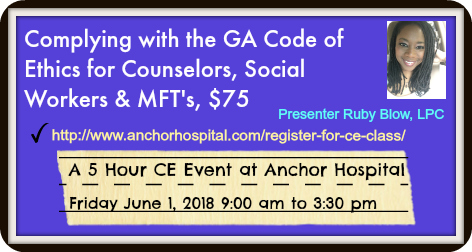 The purpose is to support familiarity with the Ethical codes for Counselors, Social Workers and MFT's in the State of Georgia.
The Objectives include:
An Overview of the Ethical Guidelines for Counselors, Social Workers and MFT's in Georgia.
Exploring the principles of ethical decision-making models.
Putting it into practice
Location: Anchor Hospital, 5454 Yorktowne Drive, Atlanta, Georgia 30349 (FREE PARKING)
Date: June 1, 2018
Time: 9:00 AM – 3:30 PM
CE Information: 5 Ethics CE's approved hours
Fee: $75.00
---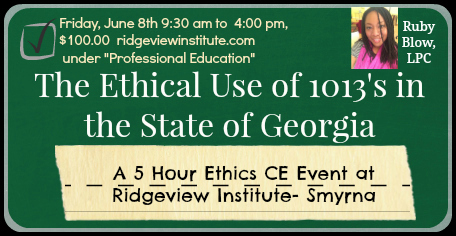 The purpose of this presentation is to inform and address mental health therapists in the state of Georgia about the proper use and intent of the 1013 form (a legal process); which is used to authorize the involuntary transportation of individuals with mental health emergencies (those who have intent to harm themselves or others) to emergency receiving facilities.
It will also address the ethical dilemmas inherent in the process of assessing individuals including requests from family and other collateral's as well as the challenges involving access to resources for the person who will be re-assessed at the receiving facility.
The Objectives include:
A review of the relevant documents and forms and their language (1013's, 1014's etc…).
As well as a review of the legal rights people have as it relates to voluntary and involuntary placement in hospitals for mental health crisis stabilization.
A focus on effective and ethical assessment of risk factors (low, medium & high risk).
A discussion of the ethical pitfalls and challenges involved in the entire process from the client/patient and their family to the assessor/clinician and to the emergency receiving facility.
A discussion of the collaborative approach to suicide intervention.
Location: Ridgeview Institute, 3995 South Cobb Drive, Smyrna, Georgia 30080
Date: June 8, 2018
Time: 9:30 AM – 4:00 PM
CE Information: 5 Ethics CE's, workshop approved by LPCA-GA
Fee: $100.00
---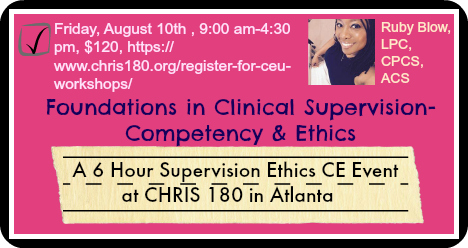 The purpose of this workshop is to support and enhance clinical supervisors' knowledge and understanding of competency and ethical practice as supervisors.
The Objectives include:
Understanding the relationship between competency and ethics;
Exploring the elements of supervisory competency and ethical practice of both the supervisor and supervisees;
Exploring best practices in clinical supervision.
Location: CHRIS 180's Main Office – CHRIS Training Institute; 1017 Fayetteville Road, Suite B, Atlanta, GA 30316 (FREE PARKING)
Date: August 10, 2018
Time: 9:00 AM – 4:30 PM
CE Information: 6 Ethics CE's, workshop approved by LPCA-GA
Fee: $120.00