*The Composite Board has passed rule 135-12-02 and the Governor has signed it. This rule requires all individuals who are licensed in GA (and work with MH, DD, SA populations) to have taken a graduate level course OR an approved 45 hour training program in psychopathology/diagnosing by December 31, 2017 if they have not been independently licensed for 10 years or more. 
I am 1 of 5  training facilitators who are independent practitioners and continuing education providers participating in offering continuing education workshops related to diagnosis/psychopathology and the DSM-V. This series is sponsored by the GA Society for Clinical Social Work www.gscsw.org. All allied professionals are welcome to attend and the CE hours count for ethics and core hours respectively for these events. Please see CE details for each event.
Because we are each independent facilitators, you will register for the workshops you plan to attend via our respective websites and registration details. Please download and review the course catalog below you can see the entire series and obtain the addendum checklist in the course catalog below. Download the pdf.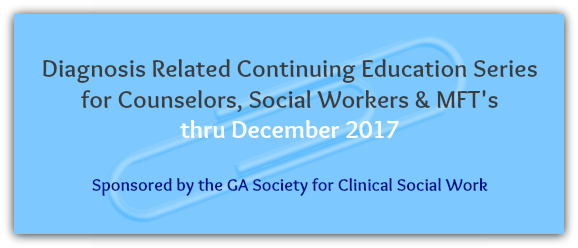 All who are seeking continuing education are welcome to attend these training events. You do not have to be meeting the GA Composite Board for Counselors, Social Workers and Marriage & Family Therapists as it relates to completing the 45 CE's in Diagnosis/Psychopathology training in lieu of a graduate course due to the passage of State Bill 319 in 2016.
CE Approval: Each workshop in this series offers 5 CE hours approved by GSCSW.
Time: from 9:30 am to 4:00 pm.
Payment: We are not offering an option or discount to pay for all 8 of your selected workshops at once. However, as you review this catalog and select your workshops you can register for more than one workshop at a time on each facilitator's website.
No Refunds: If you are not able to attend a workshop that you have already registered and paid to attend. You can attend a future date or another workshop offered by this allied professional group. Just contact the facilitator whose event you were unable to attend and they will forward your registration request to one of their peers at no additional fee.
Locations: Our workshop series is offered at various locations around metro Atlanta. Pay careful attention to location details as you register for events.
Certificates: At the end of each event you will receive a certificate issuing your CE's (continuing education hours).
Documentation: There is a checklist (addendum) attached to the course catalog. This checklist is a record of materials covered as you complete these 45 CE hours if you are completing the entire diagnosis course. It represents the educational standards set forth by graduate programs in Clinical Social Work and Clinical Mental Health Counseling. It represents the 9 content areas and learning objectives set by the allied professional associations for Social Work, Counseling and Marriage and Family Therapy.
Fees for GSCSW members: per workshop fee- $100 when registered 1 week in advance, $110 if your register the week of the workshop.
Fees for (Counselors, MFT's & non GSCSW Social Worker's): per workshop $125 when registered at least 1 week in advance, $135 when you register the week of the event.
Registration: See workshop and registration details below. Please download the course catalog to best navigate and identify your preferred workshops.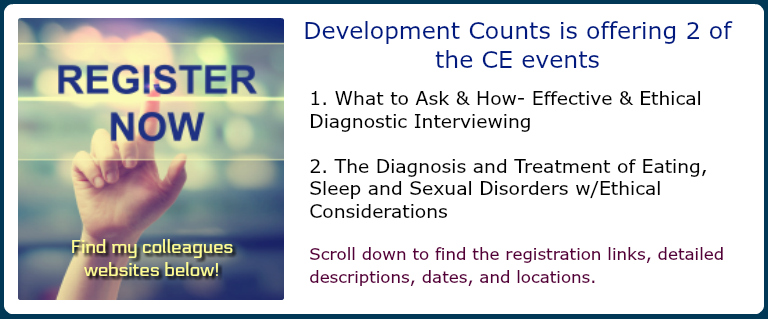 If you need to reach me Ruby Blow the best way is via e-mail on my contact page follow this link –Request more information. Below are the links to my colleague's registration pages.
Nathaniel "Nate" Ellis, LPC of ANEW Perspective at anperspective.com/
Melanie Storrusten, LCSW of Align Wellness, LLC at www.alignwellnessatl.com/
Kristin Ryan, LPC of Grow Deep Counseling, LLC at www.growdeepcounseling.com/
Edward "Eddie" Valentin, LCSW of the Showcase Group www.showcasegroup.org/ce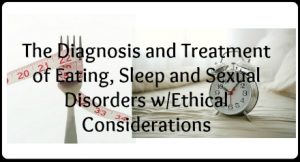 The Diagnosis and Treatment of Eating, Sleep and Sexual Disorders w/Ethical Considerations
Morning Session: Can't Eat, Can't Sleep- Differential Diagnosis, Etiology and Modern Treatment Options for Eating and Sleep Disorders
Afternoon Session: Sexual Difficulties: History, Diagnosis, and Treatment Options
Purpose:
Can't Eat, Can't Sleep- To examine the relationship of eating and sleeping to various mental health disorders, as well as assessment differential diagnosis specifically related to eating disorders and sleep disorders. Additionally, this workshop will explore treatment options, effective referral recommendations and consultations.
Sexual Difficulties-The purpose of this workshop is to acquaint participants with the history, diagnosis and treatment options for sexual dysfunctions, gender dysphoria and paraphilic disorders. Additionally, the purpose of this workshop is to explore ethical and multicultural factors related to accurate diagnosis; as well as medical factors that can impact sexual functioning and the seeking of treatment.
Objectives:
Can't Eat, Can't Sleep
Etiology of feeding, eating and elimination disorders reviewed based on current research.
Assessment process for differential diagnosis including medical considerations.
Ethical factors related to the diagnosis and treatment of eating and sleep disorders; as well as multicultural factors.
Discussion of diagnostic specifiers.
An overview of appropriate treatment strategies and biological factors
Sexual Difficulties
Etiology of Sexual Dysfunctions, Gender Dysphoria and Paraphilic disorders.
Assessment and clinical interviewing as well as collaboration to determine diagnosis.
Differential dx with other disorders with similar presentations.
Ethical considerations including values and social cultural norms. of DX addressed.
A discussion of diagnostic specifiers.
Treatment strategies, collaboration and other mental health and medical professionals and biological factors.
Date: Monday, November 13, 2017
Time: 9:30 AM – 4:00 PM
(5 Core CE Hours for Social Workers,  Counselors & Marriage and Family Therapists, includes 1 hour of ethics CE's) 
Location Update: Development Counts, at the St. Michael's Center, 1924 Clairmont Road, Decatur 30033